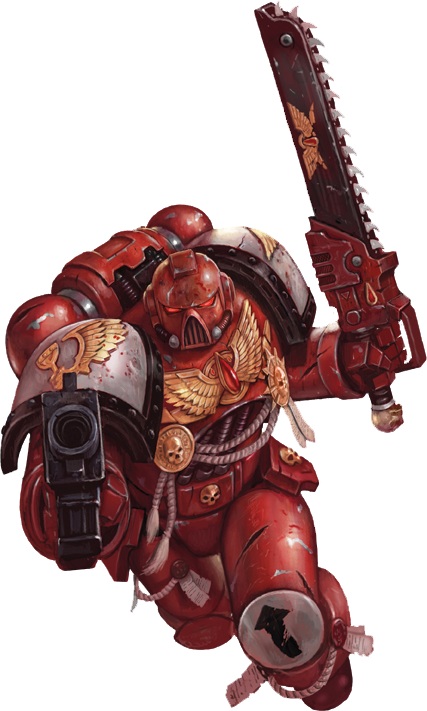 sorry, no idea who drew this, but its cool, so thanks!
Super Two Part Blog Post Part One - Blood Angels, an army in two half's
I have a secret. I actually do play Blood Angels. Well I used to. In fact, despite my reputation as a Guard player, BA's were the only army I seriously collected for many years. When I started playing Warhammer 40k in the early/mid 1990's everything and its dog was painted red and the pansies in blue were only just starting to become popular. I was only 8, and as a consequence I jumped on the big red bandwagon. I still have around 4000 points of marines, in various states of painting (most still white, if I'm honest) and given my recent decline in enthusiasm for Guard in 40k I decided to break them out and see what the latest codex could offer.
My

last post

was on using Grey Knights as an army of two halves. I wondered whether a resilient portion of a list could survive turn one and/or two, disrupting the enemy enough for a very hard hitting second wave to deep strike in successfully. In that post, I touched on the fact that the Blood Angels may also be able to use this strategy, thanks mostly to their 'Descent of Angels' rule. This rule states that any unit with a jump pack may re-roll reserve dice and may use one less dice when determining deep strike scatter. This is most often used by armies consisting entirely of jump packs, but these armies are too hit and miss for me. I want something with a little more firepower, consistency, and staying power.
I also really wanted to try Vanguard, but I don't know how effective they really are. Sure with FNP and FC from a priest (if he comes in near them!!) they will munch through most units, giving them no chance to retaliate but they will bounce off real combat troops. This will also leave them stranded. They are also expensive and have only dubious methods of cracking tanks.
Before we go any further I should stipulate that a contributing factor in the following discussion is that the models I actually own are not what might be considered optimal Blood Angels units. As a consequence, the army list that follows is not what might traditionally be considered competitive. However, I don't think it is terrible, and with some tweaking, it might work.
First half - starts on the table
Librarian, Fear of the Darkness, Shield of Sanguinius
Assault Squad, meltagun, Lasplas Razorback
Tactical Squad, flamer, multimelta, rhino
Tactical Squad, flamer, multimelta, rhino
Devastator Squad, 4 missile launchers
Devastator Squad, 4 missile launchers
Sanguinary Priest, Jump Pack
Assasult Squad, meltagun, inferno pistol
Assasult Squad, meltagun, inferno pistol
Vanguard Veterans, 2 power weapons (1 free), power fist
Vanguard Veterans, 2 power weapons (1 free), power fist
Lots of bodies, most of which are scoring, quite a bit of hitting power, and overall ok survivability. Moreover, it is tactically very flexible. The army does not have to reserve all, or any of the jump troops, and it can combat squad as the need dictates.
Armour saturation is very low, with only 3 av11 hulls.

15 kill points is actually quite high!

Is it a bit 'battleforcy'?
Incidentally, I tried a slightly less refined version of the list against Bully's Deathwing a week or so back, and while it was obviously a decent list, my own poor play and his increasing skill meant I lost quite badly. Marines really are not like playing guard.
I would like to hear your input, regardless of how positive or negative it may be.
Super Two Part Blog Post Part Two - Thinking outside the box for Blog Wars.
In this second part of today's post, I'm going to discuss the army I am currently tweaking in preparation for the upcoming Blog Wars tournament at the start of June. The only restriction on army lists in this 1750 point tournament is that each army must include at least one special character. Now, initially I thought this sucked, but with a few clarifications for older armies, I think it has the potential to make people think a bit more about their list building. This is certainly the effect it has had on me. In fact, i played a game yesterday with my guard and I truly enjoyed it, learning something for the first time in months.
Which special character did I choose? Well a lot of people might have expected me to go for something like Marbo, who would have minimal impact on building an army. However, i decided to try out a character i have always found interesting but never truly thought about - Colonel Straken.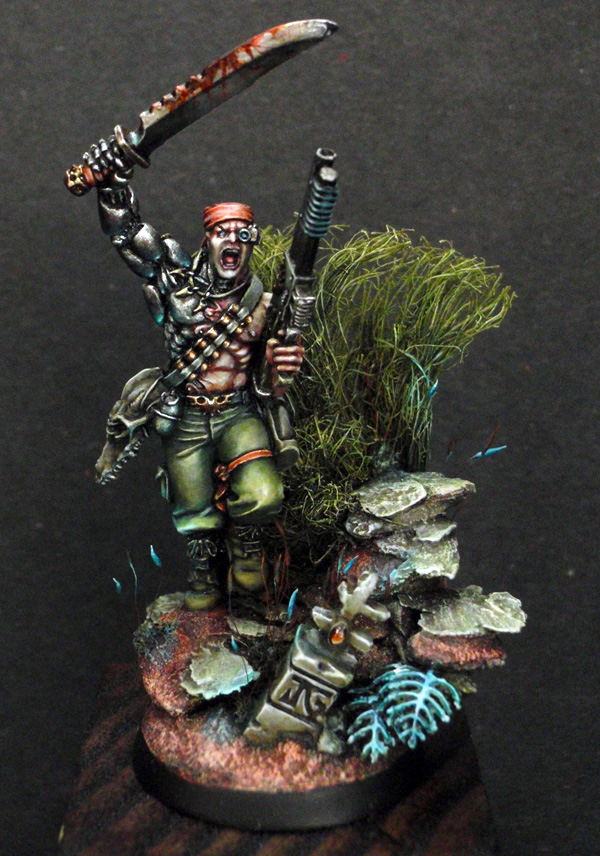 used without permission, but from an amazing French site: http://www.juliencasses.com/2011/01/col-straken/ Thanks!
I designed a 1750 list about an hour before the game, and i must stress that I have done no research on what the accepted wisdom is for using this guy in a list. I wanted this to be my own take, and take into account my own play-style.
I began with Straken himself, in a Command squad of course. I kept the upgrades minimal. A medic and two bodyguards to make sure everyone (read, Straken) survives as long as possible to do as much damage as possible. I also took a banner, you will see why in a minute. I also gave him a chimera.
I then plumbed for two medium infantry blobs of 30 men each (plus a commissar). In each of these I took four power weapons (one on each sergeant plus one on the commissar) and two meltaguns and two auctocannons. when combined with Straken's furious charge and counter attack bubble (12") and his order bubble (also 12", and he has all orders) these squads become extremely nasty. If we mathhammer it, you will see what I mean. If one squad gets charged and gets off its counter attack (hence the banner to make sure) it will have 72 attacks, of which 16 are power weapons. If it charges those will all be at S4 and I4. In addition, it is stubborn and re-rolls failed checks due to the banner and the commissar. It can also put out a prodigious amount of lasgun fire thanks to 'first rank fire, second rank fire' and can move pretty fast thanks to 'move, move, move'. Finally, both blobs are scoring, and cannot really be ignored, because in five turns, they will be in your face.
Clearly, both these platoons need command squads, so i took my usual one with four flamers and a chimera. This unit has proved itself time and again, and is still consistently underestimated. The second one, armed yesterday with 3 grenade launchers, is intended only to hold objectives. I don't really know what else to do with this unit, and as it happened, it cost me a win yesterday because it ran from the objective on the final turn, thereby utterly failing to fulfil its one purpose.
To form a more mobile and hard hitting section, i took two squads of melta vets in chimeras. We all know what these do in a normal list, but their job here turned out to be slightly different. I moved them up the flanks and used them as threat suffusion. By this I mean I gave Bully too many high priority targets to shoot at. In an army with lots of armour they would of course revert to their usual role.
Finally, I took my usual fast attack and heavy support sections. Two vendettas and three hydras. I have found this setup to be extremely effective and point's efficient and yesterday proved no exception.
So to summarise, the list is:
Company Command Squad - Colonel Straken, Medic, 2 Bodyguard, Flappy Banner, Chimera
Veteran Squad - 3 Meltaguns, Chimera
Veteran Squad - 3 Meltaguns, Chimera
Platoon Command Squad - 4 Flamers, Chimera
Infantry Squad - Commissar (power sword), Sergeant (power sword)
Infantry Squad - Sergeant (power sword), Meltagun, Autocannon
Infantry Squad - Sergeant (power sword), Meltagun, Autocannon
Platoon Command Squad - 3 Grenade Launchers
Infantry Squad - Commissar (power sword), Sergeant (power sword)
Infantry Squad - Sergeant (power sword), Meltagun, Autocannon
Infantry Squad - Sergeant (power sword), Meltagun, Autocannon
Some general thoughts on this army:
It holds midfield really well. I was shocked at this. I won turn one, and thought, sod it, let's go. I moved both squads forward for a few turns, including a run move, and I was quickly in a dominating board position, even forcing Bully to move back (with deathwing!!) or risk my charge.

It forces hard target priority decisions. If you shoot the blobs, you won't reduce their effectiveness too much, but if you don't, they will eat your face.

It will suffer to an army such as GK's, who will torrent the shit out of it.

Mobility isn't as much of an issue as it may appear.

The blobs really are dangerous in combat. They even smacked down deathwing (with a little luck on my part, but it did show the potential for them).
I will be refining and play testing this list over the next few weeks, but i would really like to hear what anyone who has played with or against Straken has to say on this subject.